We're back for Boys Behind the Blog!! Don't forget to stop by tomorrow for an awesome giveaway!!
This month, the questions were chosen by previous Boys Behind the Blog. This time my husband, Mike, actually answered the questions, but I didn't think he was as fun as
Rosco
.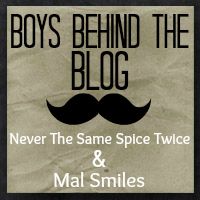 1.
Your significant other's blog; a blessing or a curse?
-
Joe @ Another Clean Slate
Curse - Between that and Candy Crush and feel like I never have any time with her.
Which is such a lie because I usually only write in the blog when he's at work. Now, Crushin, that's something we could work on, haha.
2.
Do you read your wife's (or insert relationship to blogger here) blog?
Brian @ Heather's Hurrah
When she asks me to.
3.
What is one thing you can do better than anyone you know?
-
Justin @ Our Fairy Tale
Just one thing? Hmm...I guess if I can only pick one thing, I would say cooking.
4.
What is your favorite TV sitcom from the 90's?
-
Sam @ Jessie Jo At Home
Saved by the Bell. Two words - Kelly Kapowski.
What he first told me to say was "AC Slater, no homo. But I do have a man crush on Mario Lopez."
5.
If you were opening a small business or shop, what would it be? What goods or services would you sell?
Nate @Kate & Trudy
A gym....Chestertown needs some competition and I need a better place to work out.
There he is folks, my handsome hunk of a husband. Man of many words...