It's Thirsty Thursday!!
So happy that all the awesome holidays and birthdays fall on Thursday this year!!! Did you notice that yet? 4th of July. Halloween. My birthday. Thanksgiving,

of course

. Its like God wants me to have Thirsty Thursday! Okay sorry...didn't mean to offend...
Mike and I decided not to carve our pumpkins last night. I decided to just leave them up for a fall decorations. We had full intentions of carving a pumpkin this weekend and even went to a pumpkin carving party across the street, however, with all the libations I don't think yielding a knife would have been a good idea.
I couldn't go through an entire Halloween day without posting a Halloween drank so I found one that you might want to use in case there's a Halloween party this weekend. Or maybe you'll even like to make yourself a little cocktail this evening!! Handing out candy to trick-or-treaters a little tipsy is always a hell of a lot more fun than doing it completely sober.
Remember that Candy Corn Infused Vodka recipe that I gave you last week. Well, if you decided to actually make that, this is right up your alley!! If you didn't, but still love candy corn, make the one below this!!
Candy Corn Martini
INGREDIENTS:
4 oz. candy corn vodka
2 oz. orange liqueur
juice from 1/2 lemon
1 large egg white (yeah, I know)
candy corn
DIRECTIONS:
Mix all into a shaker. Shake vigorously for at least 30 seconds. Strain into chilled martini glass. Drank it!!
And...if you didn't get the opportunity to make the vodka, make this one instead...
INGREDIENTS:
3/4 oz Absolut® vanilla vodka
1/2 oz creme de cacao
1/2 oz butterscotch schnapps
2 oz orange juice
1 tbspdark cocoa powder
DIRECTIONS:
First, ring 6 oz Martini glass with orange juice then with Cocoa powder. Pour 1/2 cup of ice into shaker, then spirits, and Orange Juice. Shake vigorously and pour into glass.
Oops, and I almost forgot!! My cohost this week is the totally awesome Tia from
Gilded TBag
!! She's so wonderful and you have to check out that freakin body!! So jealous!! She's a hopeless lush just like me and I can't wait until I get the opportunity to meet her in person. Pretty sure I won't remember once we're done, however.
Now go link up!!!
1. Follow Hopelessly Ever After and Gilded T-Bags via GFC or Bloglovin'.
2. Grab a button from below or Kristin's sidebar and put it in your post.
3. Write about your favorite alcoholic beverage.
4. Come back here and link up!!!
5. Get some new recipes or drink ideas for the weekend and make a new friend!!
6. Send a tweet with #ThirstyThursday and include @leggs532 so I can see it!!
Anyone interested in co-hosting (it's free) email Kristin at: hopelessly_ever_after@yahoo.com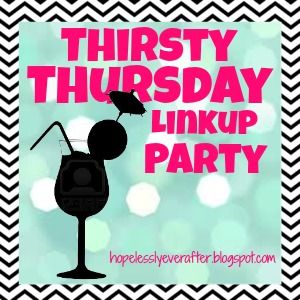 <div align="center"><a href="http://www.hopelesslyeverafter.blogspot.com" title="Hopelessly Ever After"><img src="http://i93.photobucket.com/albums/l54/leggs532/linkupbuttonreal_zpsee8b2e2c.jpg" alt="Hopelessly Ever After" style="border:none;" /></a></div>http://www.fashionablybombed.com/2011/10/halloween-candy-cocktail-1-candy-corn.html