So, do we think it's a coincidence that my birthday fell on a
Thirsty Thursday
this year?!?! Probably not!
IT'S MY BIRTHDAY!! Today I'm 29 years young!! But...the next one is going to be a big one!!
Sad part is, as I write this, I have a 100.3º temperature. So...unfortunately, I'm not making the dranks that I'm giving you guys today. But...I can promise you they are delicious and I'm going to force my husband to make them for me this weekend. Please pray I feel better by then, because this fever stuff is no fun.
Truth is my birthday is never really that exciting for me. My family hasn't even celebrated our birthdays, past the typical phone call, for about eight years now. I guess we kind of got away from it when we got older. It's just another day!!
But this year...IT'S THIRSTY THURSDAY!!
Don't forget, if you link up this week and linked up with me for the whole month of August, you get some free ad space from me!! Plus Chelsee at
Southern Beauty Guide
is doing a group giveaway that I'm involved with so don't forget to head over there and enter!!
If you didn't find out about the ad space until it was too late, no worries. I'll be doing it again some time soon!! So stay tuned!!
This week I wanted to be "BIRTHDAY APPROPRIATE" so were doing some birfday dranks!!
Iced Birfday Cake
INGREDIENTS:
1oz Smirnoff Iced Cake
.5 oz hazelnut liqueur
.5 oz pineapple juice
Boozy Birthday Cake Shots
INGREDIENTS:
1 oz cake flavored vodka
1 tsp dry white cake mix
.5 oz chocolate liqueur
.5 oz half and half
whipped cream and sprinkles!!! (for topping)
No go make me some birthday shots!!! And drank them yourselves!!
Oh...and don't forget to link up!! It's the best birthday wish I could ask for!!
1. Follow Hopelessly Ever After via GFC or Bloglovin'.
2. Grab a button from below or my sidebar and put it in your post.
3. Write about your favorite alcoholic beverage.
4. Come back here and link up!!!
5. Get some new recipes or drink ideas for the weekend and make a new friend!!
NEW UNOFFICIAL RULE!! 6. Send a tweet with #ThirstyThursday and include @leggs532 so we can see it!!
Anyone interested in co-hosting (it's free) email me at: hopelessly_ever_after@yahoo.com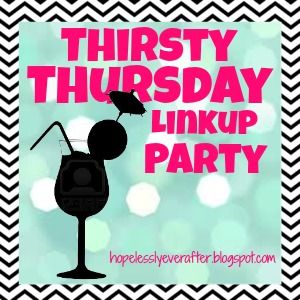 <div align="center"><a href="http://www.hopelesslyeverafter.blogspot.com" title="Hopelessly Ever After"><img src="http://i93.photobucket.com/albums/l54/leggs532/linkupbuttonreal_zpsee8b2e2c.jpg" alt="Hopelessly Ever After" style="border:none;" /></a></div>