School that is...
Truthfully, the kids are done
and
I am done. It's getting harder and harder to wake up every morning. Especially with this lovely face beside me...
...notice I wasn't talking about my husband. haha!!
Actually he works nights
which I want to make a post about some time soon
so we hardly ever get to spend the night together. Well, "hardly ever" means 15 nights a month if he doesn't have to cover someone else's shift.
But anywhoooo....school...
For those new followers I'm a Technology teacher for kids grades K-5. I get to see each class for 45 minutes a week. I know...jealous?? I spent my time in the regular education classroom so I know what that is like, too. Actually, the challenges are still as frequent, just totally different.
In the regular ed class I had to deal with the same few
pain in the ass
challenging kids all day every day. With this job, we deal with EVERY
pain in the ass
challenging kid in the school. Regular ed we had to cram our entire day into one planning session. Specialists often just miss their planning altogether. We are also left out of the loop with EVERYTHING that is going on in the school. We usually find out last minute about the assemblies and field trips and then we miss that class for the week. Which actually sucks because it throws off our schedule and we only see each class 25ish times a year.
...OK rant done...
Anyway. I'm pretty sure the kids expect to play games for the rest of the year because it's almost over and I only get to see them like 2 more times. They literally ask me constantly..."Can we play games?". To which I respond..."Did I tell you you could play games?" and they give me puppy dog eyes and shake their head. Then, I feel bad. Little tricksters...
AND....I just remembered I have to take
this
down for the summer....
...just to put it back up again next school year. :(
___________________________________________________________________
Thursday is getting closer!! I've had a lot more interest this week so I hope it goes better than the last one!! I can't wait!! Don't forget to link up with us this week with your favorite beer, wine, or cocktail. Remember, it's meant to just be an easy way to get ideas for the weekend. If you want to post an elaborate delicious drink that's fine, but something really easy is cool too!!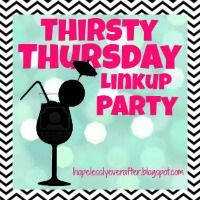 My cohost this week is Alicia from
Brew Mama
!! She is so awesome and the perfect cohost for Thirsty Thursday!! Head on over to her page and check her out!! She has had a rough day so I'm sure she could use some love!!