Shocktop is doing some 'ish lately, let me just tell you. I'm so in love with the Honeycrisp Apple Wheat and just saw they came out with a Spiced Banana Wheat. That will be in my mouth in a short matter of time, believe that. But just recently I tried the Twisted Pretzel Wheat and it sure is interesting.
You can take that with whatever you want. I tried it out with a few other people and there were mixed reviews. I, however, just happen to love it. I really don't have a lot of words for it other than "interesting". If you're someone who loves something salty with your beer, you will like this. You can definitely taste the pretzel in the aftertaste, and it's got a hint of salt, almost like you salted the rim.
Shocktop.com describes Twisted Pretzel Wheat by saying "This new beer delivers the delicious taste and aroma of bakery-fresh pretzels in a Belgian-style, unfiltered wheat ale." and that's pretty spot on. I can't wait to try this while eating actual soft pretzels with mustard. It would probably be perfect for a day at the ballpark!!
Has anyone else tried this? What did you think?
No co-host this week. If anyone is interested, email me at hopelesslyeverafter@gmail.com

1. Follow Hopelessly Ever After via GFC or Bloglovin'.
2. Write about your favorite DRANK (alcoholic beverage).
3. Grab a button from below or Kristin's sidebar and put it in your post.
4. Come back here and link up!!!
5. Get some new recipes or drink ideas for the weekend and make a new friend!!
6. Send a tweet with #ThurstyThursday and include @leggs532 so we can see it!!
Anyone interested in co-hosting next week email Kristin at: hopelesslyeverafter@gmail.com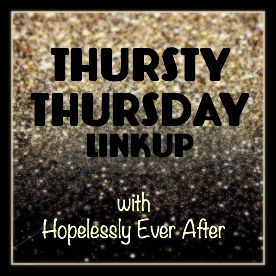 Also linking up for:
Little Friday
||
Treat Yo' Self Thursd
ay
||
Thoughts for Thursday
||
Tipsy Tuesday's
|| Full Plate Thursday