Happy #ThurstyThursday!!
I'm so ready for summer, aren't you?? Maybe not the "dog days" of summer, but certainly the warmer weather and more laid back atmosphere. I want to go have dinner on my patio and work in the garden. Maybe even sit in front of the firepit and have a few cocktails. Camping?!?! Yeah!! That's what I want. A good old camping trip.
I just want to be outside. Period.
But, until that day comes, I'll have to just turn the heat up and pretend like it's actually hot outside. We had a few warm days but the wind was blowing so damn hard you couldn't even sit outside.
My cocktail this week has me dreaming of the beach. It's so pretty and peachy and I can only think of warm summer days maybe at a dock bar or sitting on a balcony at the ocean. And Georgians...this one's for you!
Georgia on my Mind
3 oz peach vodka
1 oz triple sec
4 oz orange juice
1 oz lemon lime soda
splash grenadine
Shake vodka, triple sec, orange juice, and grenadine in a shaker. Pour over ice. Add in grenadine and lemon lime soda. Enjoy!!
Now...let me see your dranks!!

1. Follow Hopelessly Ever After via GFC or Bloglovin'.
2. Write about your favorite DRANK (alcoholic beverage).
3. Grab a button from below or Kristin's sidebar and put it in your post.
4. Come back here and link up!!!
5. Get some new recipes or drink ideas for the weekend and make a new friend!!
6. Send a tweet with #ThurstyThursday and include @leggs532 so we can see it!!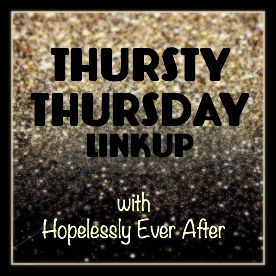 Also linking up for:
Little Friday
||
Treat Yo' Self Thursd
ay
||
Thoughts for Thursday
||
Tipsy Tuesday's
|| Full Plate Thursday ||
Tuesday's Recipe Swap
||
Delicious Dish Tuesday
||
Tuesday's Table
||
Turn it up Tuesday
||
Tutorial Tuesday
||
Let's Be Friends Blog H
op
||
Tickle My Tastebuds Tuesday
||
Handmade Tuesday's
||
Two Cup Tuesday