Boy are you in for a treat this week!! Well...I mean let's be honest, you're in for a treat every Thursday, but...this week is special. I saw this recipe last week on one of the many episodes of The Kitchen that I have recorded and it looked so easy I knew it was my next Thursty Thursday recipe. And...since Mike left me, he can't say anything about it!! Whoop Whoop!!
This was so simple and truthfully there are like no ingredients involved. It would be perfect for a summer party to keep in a container in a cooler and do work!! Gee...I'm having a lot of those "summer" recipes lately, aren't I? Hmmm maybe I NEED SUMMER!!!!!!
Bourbon Slush
Ingredients:
4 cups strong brewed tea
24 oz. lemonade concentrate, thawed
12 oz. orange juice concentrate, thawed
3 cups bourbon
Mix all together in large pitcher or bowl. Freeze for 8 hours. Stir. Freeze for at least another 2 hours. Enjoy!!
My co-host this week is the lovely Lisa from
Showered with Design
!! Isn't she gorgeous? That hottie beside her is her new hubby. They just got married this summer and you have to go check out all the details. GORGEOUS!! Lisa has an Etsy shop also called
Showered with Design
. She specializes in monogramed pieces and I may or may not have just won a monogramed ring dish from her shop!! Whoop Whoop. Be sure to stop by and pay her a visit!!

1. Follow Hopelessly Ever After and Showered With Design via GFC or Bloglovin'.
2. Write about your favorite DRANK (alcoholic beverage).
3. Grab a button from below or Kristin's sidebar and put it in your post.
4. Come back here and link up!!!
5. Get some new recipes or drink ideas for the weekend and make a new friend!!
6. Send a tweet with #ThurstyThursday and include @leggs532 and @LisaNic22 so we can see it!!
Anyone interested in co-hosting next week email Kristin at: hopelessly_ever_after@yahoo.com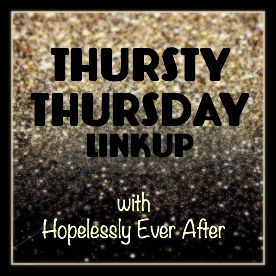 Also linking up for:
Little Friday
||
Treat Yo' Self Thursd
ay || Thoughts for Thursday