Cheers!! It's Thursty Thursday!!
I have to admit, I can't take full credit for this drink. This past weekend we stayed in Ocean City with two other couples to celebrate Valentine's Day. One of the chicks suggested Happy Hour in her room before dinner and she made this awesome drink. I knew right away I had to share it for #ThurstyThursday. Plus, the two ladies just found out about this blog so...what better way to keep them reading than to mention them first thing in my #ThurstyThursday blog post, right?!? Hey Steph and Kristin!! Now I just hope they're reading. haha.
This is such a refreshing drink. Again, perfect for a summer party!! And, this recipe makes a whole pitcher, so...it's pretty cheap, too, considering.
Beer-ry Vodka Spritzer
Ingredients:
• 3 light beers (I used Corona, Steph used Coors...both good)
• 1 cup vodka
• 1/2 can (or more) limeade from concentrate
• frozen mixed berries (however much you want. I did maybe a cup.)
Put vodka, limeade, and berries into blender. Blend until smooth. Pour into pitcher. Add beers. Stir slowly. Enjoy!!
No co-host this week. If you're interested in co-hosting #thurstythursday email: hopelesslyeverafter@gmail.com

1. Follow Hopelessly Ever After via GFC or Bloglovin'.
2. Write about your favorite DRANK (alcoholic beverage).
3. Grab a button from below or Kristin's sidebar and put it in your post.
4. Come back here and link up!!!
5. Get some new recipes or drink ideas for the weekend and make a new friend!!
6. Send a tweet with #ThurstyThursday and include @leggs532 so we can see it!!
Anyone interested in co-hosting next week email Kristin at: hopelessly_ever_after@yahoo.com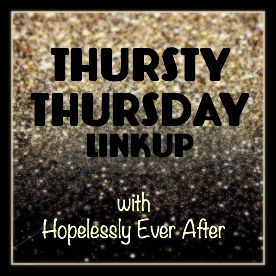 Also linking up for:
Little Friday || Treat Yo' Self Thursday || Thoughts for Thursday || Tipsy Tuesday's ||