This week has just taken a dump on my good mood. I'm so scatterbrained and all over the place at the moment I literally almost walked out to the car without shoes on yesterday.
This week we didn't get the opportunity to try a new cocktail, but we did try out a new beer!
Ever heard of Sweetwater Brewing Company? It's located in Georgia and I've heard nothing but great things about their beers. To be honest, I haven't had many of them, but I recently tried their blueberry beer cleverly named, Blue. We have been eyeing it up for some time and finally decided to try it out. I'm a sucker for fruity summer beers and this one did not disappoint. It was the perfect way to bring up my mood and the beautiful sun-shiny day we were having.
This beer was delicious. It was light and refreshing with just the right amount of blueberry to taste, but not overwhelm. I drank this one right out of the bottle, but I can only imagine how delicious it would be on draft. Can't wait for another batch. Maybe even muddle some blueberries in the bottom of my glass first. Mmmmmmm.

1. Follow Hopelessly Ever After via GFC or Bloglovin'.
2. Write about your favorite DRANK (alcoholic beverage).
3. Grab a button from below or my sidebar and put it in your post.
4. Come back here and link up!!!
5. Get some new recipes or drink ideas for the weekend and make a new friend!!
6. Send a tweet with #ThurstyThursday and include @leggs532 so I can see it!!
Anyone interested in co-hosting next week email me at: hopelesslyeverafter@gmail.com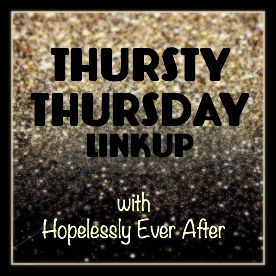 Linking up for
these
parties!!