I know a few weeks back I did the
Raspberry Beer Cocktail
, but I'm doing another one today. Mainly because this one was soooo much better than the other one. Mmmmm. It's kind of along the same lines, but it tastes so yummy!!
The idea actually came to Mike while he was buying me all the ingredients for my other beer cocktail. Unfortunately, since he had already bought the other ingredients, I told him to come on home and we would make it another day. And he proceeded to explain that he was very upset with me that I hadn't thought of this before we bought the other stuff. My bad, Goob.....my bad.
Anywhooos. This is such an awesome
cocktail
beer
....what do we call these??? Beer cocktail is such a stupid name....any suggestions? I need help. I'm not clever at the moment. But....it's got just the right amount of strawberry flavor but you taste the beer, too. And since it's a bocktail (??? stupid right? Come on and help me!!) it tends to sneak up from behind and kick you right in the ass.
And wait until you see the magic ingredient!! I hope you enjoy!!
Strawberry Daiqui-beer
1 cup fresh strawberries
1/2 cup vodka
3/4 can limeade concentrate, thawed
1 shot strawberry daiquiri mix
3 cold Coronas
Add strawberries to a pitcher and muddle just a little. Then add vodka, limeade concentrate, daiquiri mix, and beer. Stir gently just a little. Pour and enjoy!! Cheers!!

1. Follow Hopelessly Ever After via GFC or Bloglovin'.
2. Write about your favorite DRANK (alcoholic beverage).
3. Grab a button from below or my sidebar and put it in your post.
4. Come back here and link up!!!
5. Get some new recipes or drink ideas for the weekend and make a new friend!!
6. Send a tweet with #ThurstyThursday and include @leggs532 so I can see it!!
Anyone interested in co-hosting next week email me at: hopelesslyeverafter@gmail.com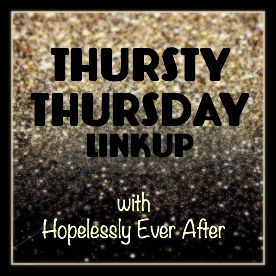 Also linking up for: Wined Down Wednesday || Little Friday

||

Treat Yo' Self Thursday

||

Thoughts for Thursday

||

Create It Thursday ||

Artsy Fartsy Link Party || Creative Ways Link Party || Lovely Little Link Party || Tipsy Tuesday's || Full Plate Thursday || Thursday Favorite Things || Friday's Unfolded || Tuesday's Recipe Swap

||

Delicious Dish Tuesday

||

Tuesday's Table

||

Turn it up Tuesday

||

Tutorial Tuesday

||

Let's Be Friends Blog Hop

||

Tickle My Tastebuds Tuesday

||

Handmade Tuesday's

||

Two Cup Tuesday || Tasty Tuesday's ||Melt in Your Mouth Monday

||