My favorite soda ever is root beer. Well..to be honest, it's Pennsylvania Dutch Birch Beer, but root beer works when I can't find that. So...when my neighbor showed me this Not Your Father's Root Beer Ale, I knew I would love it.
Let me start with this....if you don't like beer, but you like root beer, this is for you. This 'ish is amazing. Like for real amazing. And probably super dangerous because it tastes just like regular old root beer and it's 10% ABV. No lie. I had to ask him if it was actually beer because all I tasted was root beer. DANGER DANGER!! I've even had this one on ice. haha.
Here's the description from their
website
:
Kovac passed down his family's beer making tradition by working tirelessly with his son to craft the first version of "Not Your Father's Root Beer." At 10% ABV, the silky, smooth and satisfying finish is unmatched in flavor. It appeals to craft beer aficionados as well as those who don't typically drink beer but crave something unique.
The award-winning "Not Your Father's Root Beer" achieved a 95 rating from Beer Advocate and is a very popular choice at several Chicagoland bars. Small Town's personally delivered "Not Your Father's Root Beer" kegs consistently sell out at taverns across the Chicago area.


As Small Town Brewery continues to roll out new craft beers, Kovac is intent on providing the beer loving public with unique flavors that continue his family's beer-making tradition. Available on draft and in bottles.
I can only imagine how delicious this would be in a beer cocktail. I'm thinking take this and add a little spiced rum?? Kind of like a captain and root beer?? Can you even fathom how delicious that would be?? And so super dangerous. But who cares......yummmmmmmmmm.
So tell me, what do you think?? Would you drink this? Any suggestions for beer cocktails with it?

1. Follow Hopelessly Ever After via GFC or Bloglovin'.
2. Write about your favorite DRANK (alcoholic beverage).
3. Grab a button from below or my sidebar and put it in your post.
4. Come back here and link up!!!
5. Get some new recipes or drink ideas for the weekend and make a new friend!!
6. Send a tweet with #ThurstyThursday and include @leggs532 so I can see it!!
Anyone interested in co-hosting next week email me at: hopelesslyeverafter@gmail.com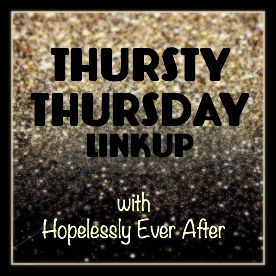 Linking up for
these
parties!!