I'm back!! Sorry for the two week delay, I just knew that everyone (including me) would probably be busy doing their thang anyway, so...that's my excuse.
As much drinking as I did over this break I didn't really stray from my usual. Between the
Arnold Palmer-anian
and my goto
Vodka Monster
I stayed pretty
drunk
consistent throughout my time at home.
I did run out of my Burnetts and Smirnoff one night, though, and thought I would make a concoction with what I had in the liquor cabinet. Well...the only bottle we had left. :)
Cherry Poppins
(like what I did there?)
• 2 shots Bacardi Torched Cherry
• equal parts Cran-Cherry juice
and
• Sprite
• splash lemonade
Add ingredients, give a quick stir. Enjoy!!
* I think this would be awesome with Canda Dry Cran Ginger Ale, too. And instead of lemonade, a splash of orange juice. But I didn't have any of that in the house. :) Hmm...maybe that can be a drink for another day!!
My cohost this week is Chelsee!! She saved me, yet again, from being all alone. :) Chelsee blogs over at
Southern Beauty Guide
! If you ever need makeup tips or ideas for alternatives to what you have, check her out. And stop by her
Let's Be Friends Blog Hop
on Tuesday's!!

1. Follow Hopelessly Ever After and Chelsee via GFC or Bloglovin'.
2. Write about your favorite DRANK (alcoholic beverage).
3. Grab a button from below or Kristin's sidebar and put it in your post.
4. Come back here and link up!!!
5. Get some new recipes or drink ideas for the weekend and make a new friend!!
6. Send a tweet with #ThurstyThursday and include @leggs532 and @etagurl89 so we can see it!!
Anyone interested in co-hosting next week email Kristin at: hopelessly_ever_after@yahoo.com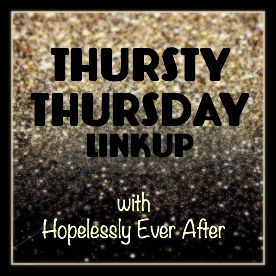 Also linking up for...