It's Thursday!! Come party with us!!
This is a new take on an old drink Mike used to drink back in the day. It tastes kinda like Hawaiian Punch so it's a drink you could prepare for the kiddies and add a couple shots to the adults dranks!!
Hawaiian Smash
• 3 shots vodka
• 1-2 fresh squeezed oranges
(for large batches, just use orange juice)
• 4 oz cranberry juice
• 4 oz sprite
Mix vodka, oranges, and cranberry juice together in a large glass. Add sprite. Enjoy!!
My co-host this week is the amazing Amy from
The Crazy Wise Woman
. She's a happily divorced mom of 3 and she's awesome as hell. Amy is currently doing the Whole30 thing and I'm so interested to learn about it. She has some awesome
Whole30 recipes
on her blog. I'm definitely looking forward to trying out the mayo!! Everybody go stop by and say hey to Amy!!

1. Follow Hopelessly Ever After and The Crazy Wise Woman via GFC or Bloglovin'.
2. Write about your favorite DRANK (alcoholic beverage).
3. Grab a button from below or Kristin's sidebar and put it in your post.
4. Come back here and link up!!!
5. Get some new recipes or drink ideas for the weekend and make a new friend!!
6. Send a tweet with #ThurstyThursday and include @leggs532 and @CrazyWiseWoman so we can see it!!
Anyone interested in co-hosting next week email Kristin at: hopelessly_ever_after@yahoo.com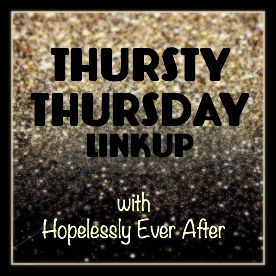 Also linking up for:
Little Friday
||
Treat Yo' Self Thursday