You saw right!!! Thursty Thursday is coming back!! (With a slight name change. THURSty THURSday...get it?!?!)
OK so here's the deal. I know it's hectic but I have a feeling it's going to force me to get back into this blog. It's a lot of work and I know hardly anyone ever linked up anymore, but I still want to get back into it. I met a lot of awesome chicks from the old
Thirsty Thursday
and got a lot of really great
drank
ideas. (For the newbies: dranks = alcoholic drinks)
Thursty Thursday will be every Thursday. I'd love to have a cohost every week. If you're interested please email me at hopelessly_ever_after@yahoo.com. All you would have to do as a cohost is come up with an awesome drank to share and promote the linkup on your blog and social media. You can make it theme based if you want and include party ideas to go along with it. But that's totally up to you. In return I'll feature you on my blog and give you free ad space on my sidebar!! Whoop Whoop!!
We have a new blog button, too!! For now at least. Until I get bored and want another one.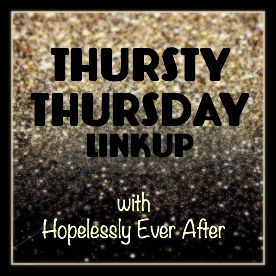 So yesterday I hit a damn deer on the way home. Or maybe I should say a deer hit me. Yup. Well, at least I think that's what it was. I never actually saw it. Just felt the huge thud and saw my car parts flying all over the road. At least I can still drive her but she's ugly. And.....of course it falls under Comprehension for my insurance so I have a $1000 deductible. Unfortunately. Grrrr. That damn deer. Sad part is when I got home I couldn't stop crying because I felt so bad for the deer. Then I got pissed. Damn thing cost me a grand! Poor Veloster.
Anywhoooo...This week I found a recipe I can't wait to try. I absolutely love apple cider in the fall, and winter, and really any time of the year. When I came across this recipe I knew I had to try it out.
I was nervous you would be able to taste too much of the alcohol but it was delicious!!! Definitely something I would make in a big batch and put in a drink dispenser or punchbowl for a holiday party.
INGREDIENTS:
1 part Spiced Rum
4 parts-ish Apple Cider
(ok if you don't know this I don't measure shit so...
this drink has like 1 shot in it and the rest cider.)
Put ingredients in a shaker with ice and then pour over ice. I rimmed my glass with some cinnamon and brown sugar which was divine.
Let me know what you think if you try it!!
My co-host this week the ever amazing Chelsee from
Southern Beauty Guide
. Chelsee saves me literally every time I need a co-host. I emailed her yesterday to see if she would be interested in co-host one will and BAM! "I can do tomorrow!" Ugh. She's amazeballs. If you ever need any makeup advice or suggestions for great products she's the one to go to. I wish I could do makeup half as amazing as her. Be sure to go check her out and show her some love!

1. Follow Hopelessly Ever After and Southern Beauty Guide via GFC or Bloglovin'.
2. Write about your favorite DRANK (alcoholic beverage).
3. Grab a button from below or Kristin's sidebar and put it in your post.
4. Come back here and link up!!!
5. Get some new recipes or drink ideas for the weekend and make a new friend!!
6. Send a tweet with #ThirstyThursday and include @leggs532 and @etagurl89 so we can see it!!
Anyone interested in co-hosting next week email Kristin at: hopelessly_ever_after@yahoo.com