It's Thurrrrsty Thursday!!
What better drank for Valentine's Day than something nastay nastay!! And it makes a whole punch bowl's worth of nastay!! So here it is!
Clearly this isn't my picture. But, I couldn't find a source
so I hope no one sues me!!
INGREDIENTS:
18 cans of beer
1 bottle everclear (didn't specify so.......play with it??
twss
)
1 bottle tequila (same as above)
1 gallon maybe pink lemonade (you know I'm not good with measurements)
DIRECTIONS:
Mix that shit!
I would put the beer last but the other recipes call for beer first. To me I would add it after everything else is mixed in so it stays carbonated.
And....tequila makes her clothes fall off so....drop them panties!!!
OK ladies it's your turn!! Scroll on down, grab a button, and link up with me!! Remember it doesn't have to be a drank. It can be anything Valentine's Day Party related!! Decor, food, playlists.....anythang!!
I'm going to do a few more Valentine's Day themed posts so I didn't want to reveal too much this week. :)
1. Follow Hopelessly Ever After via GFC or Bloglovin'.
2. Grab a button from below and put it in your post.
3. Write about your favorite alcoholic beverage, tablescape, appetizer, entrée, decorations....anything for a partaaayy!!
4. Come back here and link up!!!
5. Get some new recipes or drink ideas for your Valentine's Day and make a new friend!!
6. Send a tweet with #ThirstyThursday and include @leggs532 so I can see it!!
Don't forget, the next linkup is the last Thursday in February!!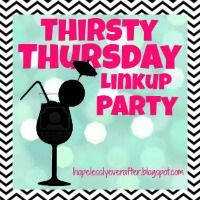 <div align="center"><a href="http://www.hopelesslyeverafter.blogspot.com" title="Hopelessly Ever After"><img src="http://i93.photobucket.com/albums/l54/leggs532/linkupbuttonsmall_zps3c560643.jpg" alt="Hopelessly Ever After" style="border:none;" /></a></div>