As I mentioned yesterday the past few weeks have been a little crazy. And yes, I have the same number of hours in each day as everyone else, but it's been crunch time I guess. I don't have any other excuse.
BUTtttttt...instead of skipping Thursty Thursday I figured I would give you a
throwback
. One of my prized possessions from the beginning of time...or Thursty Thursday. After all....it is #tbt today, right?
1 part peach vodka
1 1/2 parts cranberry juice
1 1/2 parts orange juice
a splash of peach sparkling water
Combine the vodka, cranberry, and orange juice in a shaker with some ice. Give her a little shake, shake, shake!! Pour in a glass. Add ice. Top with sparkling water.

1. Follow Hopelessly Ever After via GFC or Bloglovin'.
2. Write about your favorite DRANK (alcoholic beverage).
3. Grab a button from below or my sidebar and put it in your post.
4. Come back here and link up!!!
5. Get some new recipes or drink ideas for the weekend and make a new friend!!
6. Send a tweet with #ThurstyThursday and include @leggs532 so I can see it!!
Anyone interested in co-hosting next week email me at: hopelesslyeverafter@gmail.com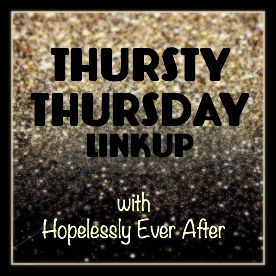 Also linking up for: Wined Down Wednesday ||
Little Friday
||
Treat Yo' Self Thursd
ay
||
Thoughts for Thursday
||
Create It Thursday
||
Artsy Fartsy Link Party
||
Creative Ways Link Party
||
Lovely Little Link Party ||
Tipsy Tuesday's
|| Full Plate Thursday || Thursday Favorite Things || Friday's Unfolded ||
Tuesday's Recipe Swap
||
Delicious Dish Tuesday
||
Tuesday's Table
||
Turn it up Tuesday
||
Tutorial Tuesday
||
Let's Be Friends Blog H
op
||
Tickle My Tastebuds Tuesday
||
Handmade Tuesday's
||
Two Cup Tuesday
||