Want something sweet and refreshing for your weekend drink? This is it! Happy Thursty Thursday!!
Today is Career Day and I can't wait to get home and drink one of these. The one I had last night......one....pretty much took me to level one on my scale from 1-4. And...since I stopped after that one, I was in bed by about 8:30. These weeks are exhausting!
I also realized I suck donkey balls at taking pictures of my cocktails. I need a cocktail photography tutorial. Any good posts I can read? I need some help. Keep in mind I'm working with my cell phone here. It's about all I have in order to take "nice" pictures.
So...because I'm a slacker, and also because I'm beat to hell...without further ado...
Strawberry Spritz
2 shots vodka
1 shot coconut rum
2 tbsp. pureed strawberries
Simply Orange with pineapple juice
Sprite
Slice and sugar some strawberries and let sit in the fridge for a few days. Blend strawberries together until pureed. You might need to mix some of the juice with it in order to get them to blend well. Pour shots, strawberry puree, and juice over ice. Stir. Add Sprite. Enjoy! Cheers!!

1. Follow Hopelessly Ever After via GFC or Bloglovin'.
2. Write about your favorite DRANK (alcoholic beverage).
3. Grab a button from below or my sidebar and put it in your post.
4. Come back here and link up!!!
5. Get some new recipes or drink ideas for the weekend and make a new friend!!
6. Send a tweet with #ThurstyThursday and include @leggs532 so I can see it!!
Anyone interested in co-hosting next week email me at: hopelesslyeverafter@gmail.com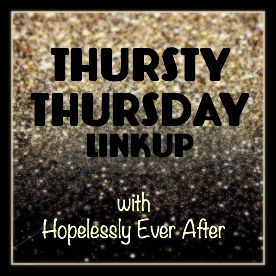 Also linking up for: Wined Down Wednesday ||
Little Friday
||
Treat Yo' Self Thursd
ay
||
Thoughts for Thursday
||
Create It Thursday
||
Artsy Fartsy Link Party
||
Creative Ways Link Party
||
Lovely Little Link Party ||
Tipsy Tuesday's
|| Full Plate Thursday || Thursday Favorite Things || Friday's Unfolded ||
Tuesday's Recipe Swap
||
Delicious Dish Tuesday
||
Tuesday's Table
||
Turn it up Tuesday
||
Tutorial Tuesday
||
Let's Be Friends Blog H
op
||
Tickle My Tastebuds Tuesday
||
Handmade Tuesday's
||
Two Cup Tuesday
|| Tasty Tuesday's ||