Happy Thursty Thursday!!
I'm trying out my first martini today!! I'm super excited!! I think it's about time I branched out a little bit and got more creative. haha. It's kind of crazy to think I've never posted a martini before, but....now I popped my martini cherry!!
I even went out and bought martini glasses for this! Don't get too excited, I just purchased them at the local Dollar Tree. Martini taste on a PBR budget.
I found this recipe on Pinterest and it was attached to a delicious looking picture, however, after further investigation I realized there is no way that picture could be this particular martini. So...I can't give credit to anyone for this recipe. If you would like to claim it, please do. Otherwise, it's mine. :)
These past few weeks have flown by and I feel like it's really coming to the end of the school year. I love this feeling but at the same time it gets me a little anxious. I hate how fast years seem to be going by. At the end of this summer I will be 31 and, although I don't feel like that is getting old at all, I feel like each year passes so much faster than the one before it.
So, I guess I'll spend my years doing what I love best. DRANKS!!
Peach Martini
3 oz. Parrot Bay Coconut Rum
3 oz. Peach Vodka
3 oz. Ginger Ale
splash of grenadine
Splash grenadine in the bottom of the glass. Top with 1.5 oz ginger ale. In a shaker, combine Parrot Bay and peach vodka. Shake well. Add to martini glass. Top with remaining 1.5 oz of ginger ale. Enjoy! Cheers!
Sip that and tell me you don't get warm fuzzies inside!!

1. Follow Hopelessly Ever After via GFC or Bloglovin'.
2. Write about your favorite DRANK (alcoholic beverage).
3. Grab a button from below or my sidebar and put it in your post.
4. Come back here and link up!!!
5. Get some new recipes or drink ideas for the weekend and make a new friend!!
6. Send a tweet with #ThurstyThursday and include @leggs532 so I can see it!!
Anyone interested in co-hosting next week email me at: hopelesslyeverafter@gmail.com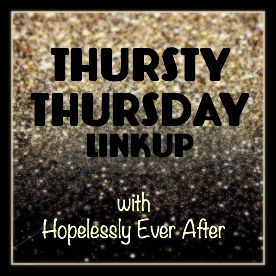 Also linking up for: Wined Down Wednesday ||
Little Friday
||
Treat Yo' Self Thursd
ay
||
Thoughts for Thursday
||
Create It Thursday
||
Artsy Fartsy Link Party
||
Creative Ways Link Party
||
Lovely Little Link Party ||
Tipsy Tuesday's
|| Full Plate Thursday || Thursday Favorite Things || Friday's Unfolded ||
Tuesday's Recipe Swap
||
Delicious Dish Tuesday
||
Tuesday's Table
||
Turn it up Tuesday
||
Tutorial Tuesday
||
Let's Be Friends Blog H
op
||
Tickle My Tastebuds Tuesday
||
Handmade Tuesday's
||
Two Cup Tuesday
||