I have to admit, I feel like absolute donkey poo, but it's Thursday and I wouldn't miss this for the world!!
This has been one of the longest weeks ever. Do I say that every week?? Hmmm. Maybe it wasn't so bad, then. No it was bad. I would elaborate, but it's boring job stuff and....well that's it. And, on top of all that Mike gave me his yuck that he just got over. So, as bad as I need this drink right now I only made one so I could take a picture and post it for Thursty Thursday. See how much I love you guys??
I found this
original recipe
on Pinterest, and just went with it. I don't normally do that, but this week it called for it. Why reinvent the wheel?
Pineapple Margarita
• 3 cups pineapple juice
• 1 cup Tequila
• 1 cup lime juice
• 1/2 cup triple sec
• salt for rim
Stir together pineapple juice, tequila, lime juice, and triple sec. Rim glass with salt. Pour over ice. Enjoy!!

1. Follow Hopelessly Ever After and The Sequin Notebook via GFC or Bloglovin'.
2. Write about your favorite DRANK (alcoholic beverage).
3. Grab a button from below or Kristin's sidebar and put it in your post.
4. Come back here and link up!!!
5. Get some new recipes or drink ideas for the weekend and make a new friend!!
6. Send a tweet with #ThurstyThursday and include @leggs532 and @sequinnotebook so we can see it!!
Anyone interested in co-hosting next week email Kristin at: hopelesslyeverafter@gmail.com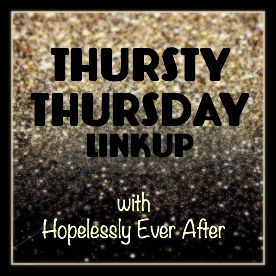 Also linking up for:
Little Friday
||
Treat Yo' Self Thursd
ay
||
Thoughts for Thursday
||
Create It Thursday
||
Artsy Fartsy Link Party
||
Creative Ways Link Party
||
Lovely Little Link Party ||
Tipsy Tuesday's
|| Full Plate Thursday || Thursday Favorite Things || Friday's Unfolded ||
Tuesday's Recipe Swap
||
Delicious Dish Tuesday
||
Tuesday's Table
||
Turn it up Tuesday
||
Tutorial Tuesday
||
Let's Be Friends Blog H
op
||
Tickle My Tastebuds Tuesday
||
Handmade Tuesday's
||
Two Cup Tuesday
||