I think I need this Thursty Thursday more than any recent Thursty Thursday. This week has been insane. We were supposed to have Spring Break this week but since we missed so many snow days we only get off tomorrow. Not like we had a big Spring Break anyway, but it would have been nice to only have a 2 and a half day week rather than a 3 and a half day week. Although.....I did have off on Monday, so...I guess it worked out for me either way. haha.
Easter this year is at our house. That wouldn't have been a big deal except Mike's mom is going through some health things and it's been a little nerve wracking lately. Needless to say, my mind hasn't been on getting the house ready or preparing at all. The good news is she is very willing to make whatever we want her to make, so all we have to do is make the ham. We asked everyone else to bring a side and hopefully we will have enough.
And....this post is coming to you from my old ass Dell because yesterday my school laptop blew up. I never use this Dell for anything except to download illegal items
and porn
(haha, just kidding.
maybe
). Really, there's nothing wrong with it, but I'm just so used to using the other computer this one seems like a pain. At least I have a backup or else there would be no Thursty Thursday this week.
So I came across
this drink
earlier this week on Pinterest and knew immediately it would be my Thursty Thursday drink. Number one, it's only 2 ingredients. The less I need to buy, the better. We're ballin' on a budget over here. And number 2 it seemed to fit with the way the weather is changing. It's been gorgeous here lately and it just made me want something I could sit on the porch and enjoy.
And...I named this one the Hawaiian Breeze because it's not quite a Sea Breeze, and not quite a Bay Breeze, and I think it would be stupid to call it a Pond Breeze or a River Breeze! Pineapple reminds me of Hawaii...although I've never been there....so, I went with it.
Hawaiian Breeze
* 1 part coconut rum
* 1.5 parts pineapple juice
Fill shaker with ice. Add ingredients. Give a good shake. Pour over ice. Enjoy!!

1. Follow Hopelessly Ever After via GFC or Bloglovin'.
2. Write about your favorite DRANK (alcoholic beverage).
3. Grab a button from below or Kristin's sidebar and put it in your post.
4. Come back here and link up!!!
5. Get some new recipes or drink ideas for the weekend and make a new friend!!
6. Send a tweet with #ThurstyThursday and include @leggs532 so I can see it!!
Anyone interested in co-hosting next week email Kristin at: hopelesslyeverafter@gmail.com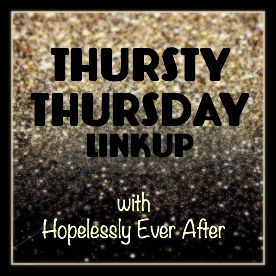 Also linking up for:
Little Friday
||
Treat Yo' Self Thursd
ay
||
Thoughts for Thursday
||
Tipsy Tuesday's
|| Full Plate Thursday || Thursday Favorite Things ||
Tuesday's Recipe Swap
||
Delicious Dish Tuesday
||
Tuesday's Table
||
Turn it up Tuesday
||
Tutorial Tuesday
||
Let's Be Friends Blog H
op
||
Tickle My Tastebuds Tuesday
||
Handmade Tuesday's
||
Two Cup Tuesday