I think I mentioned last week that Easter dinner was at my house this year. My mom just sold the house we grew up in and my brother just bought a new house so it was really up to me to host. I didn't mind and did it the easiest way possible. I made the turkey and asked everyone else to bring sides. It turned out great and we had so much delicious food.
I had wanted to make a Sangria recipe for the dinner, but knew I wouldn't have enough time to devote to actually putting the effort in, so, in good fashion.....I pawned it off on someone else. haha. I think my SIL was planning on making potatoes, but when I asked her to do the Sangria she didn't hesitate. It was sweet and delicious and perfect for Easter dinner. Not many people drank it since they all had plans afterwards, but that actually turned out to work out in my favor because I got all the leftovers.
Emeril's Red Wine Sangria
• 1 750ml bottle of red wine
• 1/4 cup Triple Sec
• 1/4 cup Brandy
• 2 tbsp. orange juice
• 2 tbsp. lime juice
• 1/4 cup sugar
• 1 750ml bottle of sparkling water (chilled)
• Apples, oranges, lemons, limes sliced thin for garnish
Combine all ingredients except sparkling water. Chill 1-2 hours. Before serving add sparkling water or add to individual glasses as desired.

1. Follow Hopelessly Ever After via GFC or Bloglovin'.
2. Write about your favorite DRANK (alcoholic beverage).
3. Grab a button from below or from my sidebar and put it in your post.
4. Come back here and link up!!!
5. Get some new recipes or drink ideas for the weekend and make a new friend!!
6. Send a tweet with #ThurstyThursday and include
@leggs532
so I can see it!!
Anyone interested in co-hosting next week email Kristin at: hopelesslyeverafter@gmail.com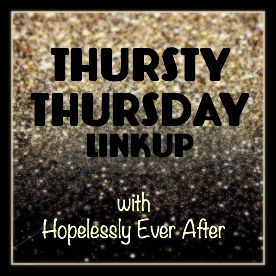 Also linking up for:

Little Friday

||

Treat Yo' Self Thursday

||

Thoughts for Thursday

||

Create It Thursday ||

Artsy Fartsy Link Party || Creative Ways Link Party || Lovely Little Link Party || Tipsy Tuesday's || Full Plate Thursday || Thursday Favorite Things || Friday's Unfolded || Tuesday's Recipe Swap

||

Delicious Dish Tuesday

||

Tuesday's Table

||

Turn it up Tuesday

||

Tutorial Tuesday

||

Let's Be Friends Blog Hop

||

Tickle My Tastebuds Tuesday

||

Handmade Tuesday's

||

Two Cup Tuesday ||