Yep. I'm a slacker. I didn't make a drink this week. But...I will provide you with the viewing pleasure and recipe of the drink I was going to try!! Sorry guys, this week kind of got in my way and I slacked a little. Again. That, and I'm kind of trying to save some money, so I was stuck with what was in my freezer this week. But...I'm saving up for next week. :)
Oh and no cohost again this week. Don't forget, if you're interested I'd love to have you. Just email me at hopelessly_ever_after@yahoo.com. I don't charge you anything and I make it super easy. So, if you're worried it will be hard, it won't!!
twss
Anywhoo...this was the drink I found and I thought it looked hawesome!!
I tried to do something similar to this a while back and called it a
Slutty Temple.
This is the actual drink that I got the idea from. I pinned it three times onto my
Sip, Sip, Slurp
board on Pinterest, so I must have thought it looked good. I'll definitely be trying it this weekend.
INGREDIENTS:
1 oz. cherry vodka
5 - 6 oz. Sprite
a splash of grenadine
I used to get Shirley Temple's every time I went out to dinner with my parents. I absolutely love the taste of them and sometimes mix in some maraschino cherry juice into my ginger ale just to get that flavor. Hopefully this is just as good!!
OK It's your turn!! All you have to do is write a quick post about beer, wine, or a cocktail and come back to link it up!! I love to hear your suggestions!!
1. Follow Hopelessly Ever After via GFC or Bloglovin'.
2. Grab a button from below or my sidebar and put it in your post.
3. Write about your favorite alcoholic beverage.
4. Come back here and link up!!!
5. Get some new recipes or drink ideas for the weekend and make a new friend!!
6. Send a tweet with #ThirstyThursday and include @leggs532 so I can see it!!
Anyone interested in co-hosting (it's free) email me at: hopelessly_ever_after@yahoo.com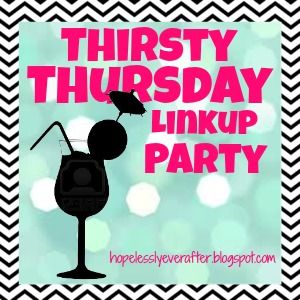 <div align="center"><a href="http://www.hopelesslyeverafter.blogspot.com" title="Hopelessly Ever After"><img src="http://i93.photobucket.com/albums/l54/leggs532/linkupbuttonreal_zpsee8b2e2c.jpg" alt="Hopelessly Ever After" style="border:none;" /></a></div>