It's finally Thirsty Thursday!! Ugh...so ready for this.
I actually started running again on Tuesday. That means that I don't have my daily beer as soon as I walk in the door from work. I have to wait until after my run. If you don't understand, let me explain...
I drink beer when I make dinner. Or when I sit there and watch Mike make dinner.
I drink beer when were eating dinner.
I drink beer when we clean up.
I drink beer when we sit down to watch tv.
Then, when Mike leaves, I drink beer when I write my blog posts.
Now, my night consists of...
No drink when dinner is made.
Milk for dinner.
No drinks during tv.
Run.
Beeeeeeeerrrr!! Or in last night's case, alcohol! during my blog post.
Bed.
I know, it's boring now. But, I'm hoping to lose some weight again because I had a kid call me out yesterday. Yup...little bugger. Almost punt kicked him across the classroom. I was talking about my earbuds when i run and how they fall out of my ears. He said "You run??" "Yup." "But, if you ran a lot, shouldn't you be......" "Shouldn't I be what?!?!?!?!?"
Oh yeah. Another kid in the class gasped. He knew. And he quietly told the other kid, "You can't say that to a girl."
ANYWHOOOOOOOO...
It's THIRSTY THURSDAY!!!
My cohost this weeks is the ever amazing Chelsee from Southern Beauty Guide. Chelsee is amazeballs, you guys. Like for real. I can't say enough good things about her. She has a special place in my heart especially for Thirsty Thursday because she was the first person to ever link up with me!! I have to say it was a sad day until Chelsee came along. I was super excited with my 50 followers and thought at least someone would linkup!! But...alas...it was Chelsee, who had never even read my blog before, who saved the day!!
AAANNNDDD...Chelsee has some super awesome giveaways going on on her blog, one of which is at the end of this post, so go enter!!
Now for this draaaaaaaank!!
I can't say I did this on my own. I mean I changed it on my own, but I didn't really come up with the idea. A special someone, who I hope is a cohost one week

Brandi

actually gave me the idea after last week's drank.
Pank Lemondrank
I think I'm running out of cute names
INGREDIENTS:
1 oz. strawberry vodka
2 oz. Sprite
2 oz. Lemonade
a splash of grenadine for color
Give a quick stir and voila!!
*Disclaimer: I really don't know the measurements of any drink I make. So...just mix that ish and drank!!*
Now...go link up your drink of the week and don't forget to enter the giveaway below!!
1. Follow Hopelessly Ever After and Southern Beauty Guide via GFC or Bloglovin'.
2. Grab a button from below or my sidebar and put it in your post.
3. Write about your favorite alcoholic beverage.
4. Come back here and link up!!!
5. Get some new recipes or drink ideas for the weekend and make a new friend!!
6. Send a tweet with #ThirstyThursday and include @leggs532 and @etagurl89 so we can see it!!
Anyone interested in co-hosting (it's free) email me at: hopelessly_ever_after@yahoo.com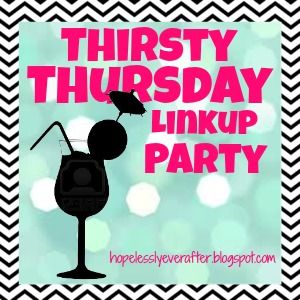 <div align="center"><a href="http://www.hopelesslyeverafter.blogspot.com" title="Hopelessly Ever After"><img src="http://i93.photobucket.com/albums/l54/leggs532/linkupbuttonreal_zpsee8b2e2c.jpg" alt="Hopelessly Ever After" style="border:none;" /></a></div>
a Rafflecopter giveaway