This week my Pinterest did the work for me. I was thinking about a drink this week that used watermelon and cucumber and wanted to name is something 4th of July-ish and low and behold....as soon as I opened up Pinterest, this came up! Thank you Pinterest God's!
I've heard so much about cucumber vodka and how refreshing it is. I've seen so many cucumber mojitos and even a cucumber sangria. I knew when I grabbed that cucumber from the produce stand of our Food Lion it was time! Time my friends!!
Then....something miraculous happened. Mike's parents came over for dinner and brought watermelon! OK, so it's not exactly "miraculous"...but it started ringing some bells!! What's more refreshing in the summertime than watermelon? But...watermelon and cucumber? Together? Hmmm. Not so sure about that one.
So, I turned to Pinterest for some ideas...and boy did it deliver!! Now...as usual I changed it around a little. I kind of combined two recipes,
this
one and
this
one, but let me tell you how delicious this is It even came with the perfect name!!
The Firecracker
3 1" cubes of watermelon
4 slices of cucumber
juice of 1 lime
1 oz. simple syrup
1 oz orange juice
2 oz vodka
for garnish:
1 slice of cucumber
1 slice of watermelon
1 slice of lime
In a cocktail shaker, muddle watermelon, limes (if you use lime juice add later), and cucumber. Add vodka, simply syrup, orange juice, and lime juice (see above). Pour over ice. Garnish with watermelon, cucumber, and lime. Cheers!!

1. Follow Hopelessly Ever After via GFC or Bloglovin'.
2. Write about your favorite DRANK (alcoholic beverage).
3. Grab a button from below or my sidebar and put it in your post.
4. Come back here and link up!!!
5. Get some new recipes or drink ideas for the weekend and make a new friend!!
6. Send a tweet with #ThurstyThursday and include @leggs532 so I can see it!!
Anyone interested in co-hosting next week email me at: hopelesslyeverafter@gmail.com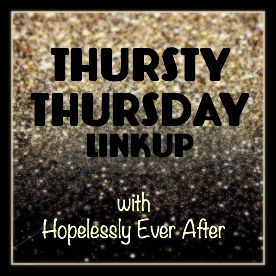 Linking up for
these
parties!!